The State Bar of Nevada is committed to addressing the issue of diversity through open dialogues on diversity, equity and inclusion. Diversity is the range of human differences, including but not limited to race, ethnicity, gender, gender identity, sexual orientation, age, social class, physical ability or attributes, religious or ethical values system, national origin, and political beliefs.
We will curate and share resources that will assist law firms in promoting the benefits of diversity and inclusion in the firm setting and assisting firms to meet their diversity and inclusion goals.
---
Become a Partner in DEI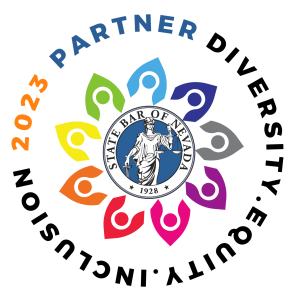 The State Bar of Nevada recognizes the commitment that law firms and legal organizations have made to incorporating diversity, equity, and inclusion (DEI) initiatives in their practices. We invite law firms to display their commitment to DEI by becoming a partner in Diversity, Equity, and Inclusion by proudly displaying this medallion on your firm's website, marketing materials, or anywhere else you would like to promote your commitment to DEI!
Click here for more information on how to earn a DEI medallion, get recognition for your hard work, and become a partner in Diversity, Equity, and Inclusion. Medallions are earned annually, and the image is provided upon completion of at least 5 DEI initiatives.  For more information, contact Judi De Marco at judid@nvbar.org.
2023 Partners in Diversity:
McDonald Carano
Dickinson Wright
Kaempfer Crowell
Wood Smith Henning & Berman
Evans Fears & Schuttert
Lewis Roca
McCormick Barstow
Armstrong Teasdale
Legal Aid Center of Southern Nevada
Snell & Wilmer
Shook & Stone
Goldsmith & Guymon
Clark Hill
Taylor Law Group
Hutchison & Steffen
Collins & Collins
H & P Law
Sherman & Howard
Hone Law
Holley Driggs
Boies Schiller Flexner
Greenberg Traurig
TALG
Southwest Gas
Clark County District Attorney's Office
Cavanaugh-Bill Law Offices
Nevada Legislative Counsel Bureau
Bailey Kennedy
Northern Nevada Legal Aid
City of North Las Vegas
Nevada Legal Services
---
Grant Funding Available!
Investing in a better legal community is germane to the mission of the State Bar of Nevada and its strategic priorities. Through IDEA Grants, the State Bar seeks to support organizations throughout our state to improve diversity and well-being within the legal profession. Click here for more information or to apply for an IDEA Grant.
---
CLEs
Videos on Demand:
---
Challenge Event
Take the Disability Equity Habit-Building Challenge  – view the list of assignments and question prompts.
---
ABA Resources
The State Bar of Nevada invites attorneys to join other lawyers across the nation in participating in the American Bar Association's (ABA's) 21-Day Racial Equity Habit-Building Challenge.
ABA Diversity and Inclusion Center
---
Articles
ASAE "DEI Is Fundamental to Successful Board Leadership" 
Forbes  "4 Ways to Create a More Diverse Workforce that Inspires Innovation"
NPR "There is No Neutral, Nice White People can Still be Complicit in a Racist Society"
Nevada Lawyer  "DEI Crucial Elements of Lawyer Well-Being"
---
Hiring Guide
As employers know, hiring based primarily on grades or law school attended often does not meet the needs of an evolving profession and society. In addition to leaving out other key indicators for success, such as practical judgment and interpersonal relationship building, this process limits efforts to diversify the legal workforce in law firms and throughout the profession. The process also lacks a robust assessment that employers can use to discover candidates who fulfill an employer's specific needs and who would be committed to the work, goals, and vision of the employer.  Read more and link to the Foundations Hiring Guide.
---
Cultivating Diversity Opportunities
Develop a mentoring relationship with a diverse attorney.
Mentor a law student of a diverse background.
Mentor a diverse high school or college student interested in becoming an attorney.
Invite a diverse attorney to SBN programs and events and introduce them to your colleagues.
Invite a diverse attorney to affinity bar programs and events and introduce them to your colleagues.
Add diversity-related topics to your Section/Committee meeting agenda.
Recommend a diverse attorney to speak on a SBN CLE panel.
Learn about the impact of subtle, unconscious and implicit bias by visiting Project Implicit and take one of the surveys.
Read an article or attend a CLE about how generational differences may impact communication styles, motivation for success, and work values.
---