2021 Board of Governors Candidates
The State Bar of Nevada has begun its annual elections for members of the Board of Governors. Elections began Saturday, April 17, 2021, and end at 5 p.m. on Monday, May 17, 2021, Pacific Time.
Your vote is extremely important, and this year, it's easier than ever to participate!
Bar members eligible to vote in the following contested race should already have received an email from Election America containing a voting link. It provides voters with a secure and confidential way to access the online voting and tabulation system. If you did not receive your email, contact Manny Botello at mannyb@nvbar.org.
Expanded candidate biography information is found below. Use the links to navigate to each candidate's information.
District One – Clark County: One Seat
The eligible candidates for District One include:
---
District One – Clark County: Candidate Statements
---

JESSICA M. GOODEY
Email: jessica@goodeyinjurylaw.com
Date of admission to practice in Nevada: October 2010
Employer: Goodey Injury Law
Present position: Attorney
Practice areas of law: Personal Injury and Medical Malpractice
Affiliations: Nevada Justice Association
I am seeking election to a three-year term on the Board of Governors. I served on the Board from 2018 to 2020. During that term, I worked to have a Board that works for all of its members, including the solo and small practices. Specifically, I served on several committees and taskforces to fulfill those goals, including the Disciplinary Taskforce to review the current disciplinary system and recommend possible changes to ensure the disciplinary system is fair, consistent and efficient, as well as the Audit Committee which reviews the audited financial statements to ensure our bar dues are being used in an appropriate and fiscally responsible manner. In addition, I have always made myself available to speak with members of the bar to discuss issues they are facing and to find ways the Bar can help.
For the last 7 years, I have worked as small/solo practitioner, first at a 2-person firm, and now at Goodey Injury Law, as a solo practitioner practicing primarily in personal injury and medical malpractice.  Because of this, I am intimately familiar with the struggles of small firms and solo practitioners, especially as we continue to navigate the difficulties associated with COVID-19. Prior to opening my own firm, I began my legal career at Marquis Aurbach Coffing, as well as gaining experience at Jackson Lewis.
With the current pandemic and the constantly changing landscape, I am mindful of the difficulties facing our profession, and I will work with the Board and State Bar's membership to ensure the Board is meeting the needs of its members.
In addition to my practice, I volunteer with the Southern Nevada Legal Aid Center as a CAP attorney, as well as serving as a judge in the annual Nevada High School Mock Trial Regional Competition. I also serve as an Arbitrator for the Nevada Arbitration Program, an Alternative Judge in the Las Vegas Municipal Court, and a Justice Pro Tempore for the Las Vegas Justice Court.
I graduated from UNLV's Boyd School of Law in 2010 and became a member of the Bar that same year. I received my undergraduate degree from University of Illinois-Urbana-Champaign. When I am not working or spending the weekends at my son's sporting events, I love exploring new places.
I am excited to have an opportunity to serve members of this profession, and, if given the chance, I hope to implement rules that better serve us. I am happy to discuss my candidacy and listen to any suggestions for additional changes. I can be reached by email at jessica@goodeyinjurylaw.com or by phone at (702) 703-1888.
---

AUGUSTA MASSEY
Email: amassey@masseylawvegas.com
Date of admission to practice in Nevada: 2008
Employer: Massey & Associates Law Firm, PLLC
Present position: Managing Member & Founder
Practice areas of law: Bankruptcy, Business Litigation, Estate Planning/Probate
Affiliations: National Bar Association, Las Vegas Chapter; Las Vegas Latino Bar Association; Southern Nevada Association of Women Attorneys; Clark County Bar Association; State Bar of Nevada's Fee Dispute Committee; State Bar of Nevada Transitioning into Practice (TIP) Mentor; Judge Pro Temp
Dear Friends and Colleagues:
I ask for your vote in the 2021 State Bar of Nevada Board of Governors election because I am committed to its mission to govern the legal profession, serve our members, and protect the public interest. If elected, I would specifically advocate for:
improving civility, diversity, equity, and inclusion in the legal field;
promoting the state bar's commitment to pro bono and community outreach services with special consideration to ameliorating the negative impacts of COVID-19; and
increasing engagement among our members through innovative ideas and communication.
Tim Fargo said, "Leadership is service, not position." I have been privileged to spend over a decade of my career serving our Las Vegas legal community. Currently, I serve as the president of the Las Vegas Chapter of the National Bar Association. Despite the pandemic, I helped lead the organization to increase membership and engagement by over 100% and host several community-oriented events centered on justice issues. As a contributing member to the state bar's roundtable on diversity, equity, and inclusion, I helped create and shape diversity initiatives that will make the bar better for all of us. Additionally, I serve as an advisory committee member to the U.S. Commission on Civil Rights, a Transitioning into Practice mentor, and an arbitrator/mediator in my tenth year with the state bar's fee dispute committee.
My leadership experience in several organizations, combined with over a decade of consistent service to the bar, makes me well positioned to serve you on the board. Please reach out to me if you have any questions. Thank you for your time, consideration, and vote.
Sincerely,
Augusta Massey
Augusta Massey, Esq.
Accessible, Committed, Effective
---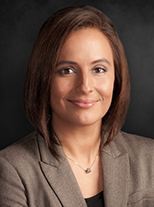 MARISA RODRIGUEZ
Date of admission to practice in Nevada: 2013
Employer: City of North Las Vegas
Present position: Senior Deputy City Attorney
Practice areas of law: Municipal Law, Civil Litigation, Transactional, and Employment Law
Affiliations: Las Vegas Latino Bar Association, Hispanic National Bar Association, Howard D. McKibben Chapter of the American Inns of Court, Las Vegas National Bar Association, Southern Nevada Association of Women Attorneys, Clark County Bar Association, and American Bar Association
Biography:
Marisa is a Senior Deputy City Attorney at City of North Las Vegas (City), where she oversees all aspects of the City's business, including litigation, transactions, labor and employment issues, ordinance drafting, code enforcement, and business licensing.
Prior to joining the legal team at the City, Marisa was a member in Weinberg Wheeler Hudgins Gunn & Dial's nationally-recognized litigation group. Her practice focused in all phases of complex commercial litigation, premises liability, products liability, catastrophic injury, and healthcare law.
Marisa served as a judicial law clerk for the late Honorable Susan Scann of the Eighth Judicial District Court in Clark County. She received both her B.S. and J.D. from the University of Nevada, Las Vegas, NV.
In 2019, Marisa was recognized as a Top Attorney Under 40 by the Hispanic National Bar Association. In 2020, Marisa received the William S. Boyd School of Law, UNLV, Alumna of the Year award. She serves on the advisory board for the Justice Michael L. Douglas PreLaw Fellowship Program.
Statement:
The Board of Governors' mission is to govern the legal profession, serve the Nevada State Bar members, and protect the public interest. Given my experience practicing law in both the public and private sector and passion for wellness and health, I would bring to the board a unique perspective and strong work ethic to help achieve its goals.
My top priorities as a Board member would include:
Expanding member benefits to address issues affecting our profession such as anxiety, depression, and stress, and ensuring our members understand that these benefits are available to them.
Identifying and creating opportunities in the legal profession for the Bar's minority members.
As a proud Boyd alumna (2013) and someone who has called Nevada home for the past 29 years, I am dedicated to the service of our community and legal profession. Along with my practice experience, my leadership roles in several organizations have prepared me to perform as your representative on the Board of Governors. For example, as President of the Latino Bar Association, I founded the ¡Andale! 5K, a scholarship fundraiser centered around a 5k race, which has raised over $100,000 in two years for Latinos aspiring to attend law school.
Thank you for your support!
---